Last weekend, I made a huge batch of my sweet potato dark chocolate mousse to feed a hungry crowd. All the skins had to be removed to achieve the right consistency and since I'm someone who can't stand the thought of throwing away nutritious food, I saved all of them. The potato skins filled my already too-full refrigerator. I had to think of a creative recipe quick. And then it occurred to me. I could turn all those lovely peelings into chips!
I honestly do not remember the last time I had nachos. They're always covered in cheese, which I can't eat and let's face it, the cheese is the best part. Recently I found a dairy-free cheese dip recipe begging to be made and I thought no better way to enjoy chips than as nachos. The dairy-free cheddar cheese dip was created by Jane of Jane's Healthy Kitchen and it's the best dairy-free, nut-free cheese I've ever made. Non-dairy cheese is all about the consistency and she nailed.
Once the chips are baked, you can layer any of your favorite toppings on these. Get creative and have fun with it!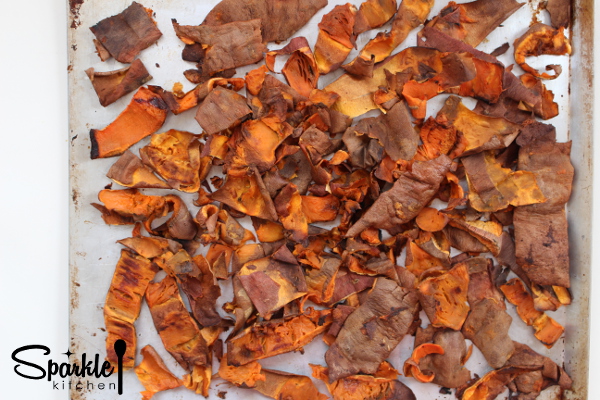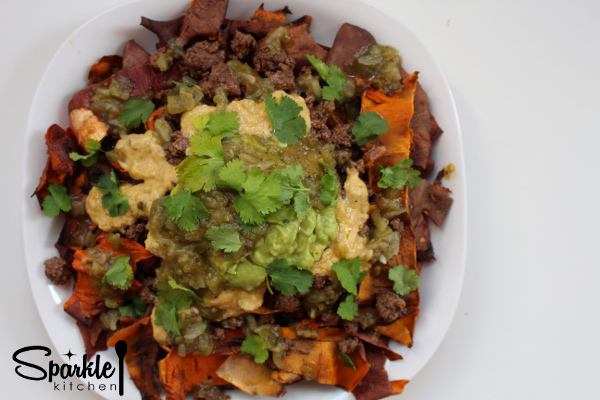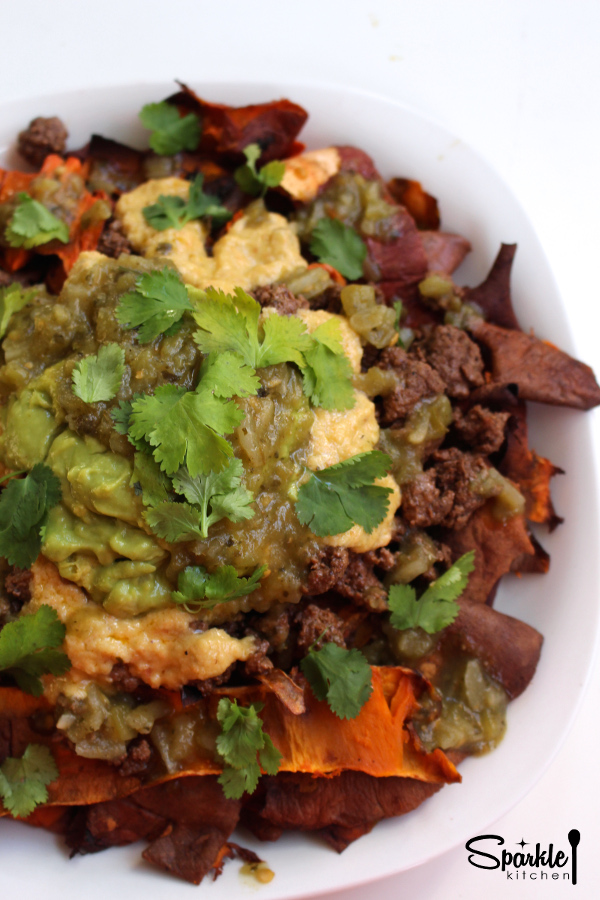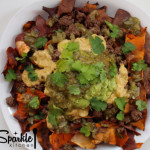 Baked Sweet Potato Chip Nachos
2015-04-16 11:00:58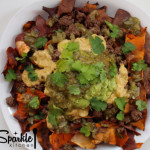 Serves 4
Baked sweet potato skins as a chip alternative for nachos.
Ingredients
Beef & Seasoning
1 lb ground beef
1 tbsp chili powder
¼ tsp garlic powder
¼ tsp onion powder
¼ tsp red pepper flakes
¼ tsp dried oregano
½ tsp paprika
1 ½ tsp ground cumin
1 tsp sea salt
1 tsp black pepper
♢
Baked Sweet Potato Chips
5 large sweet potatoes
1 tbsp coconut oil
1 tsp salt
Dairy-free Cheddar Cheese
Salsa of choice
Guacamole - homemade or pre-made organic
Cilantro
Instructions
For the Sweet Potato Chips, preheat oven to 425 degrees.
Carefully peel potato skins lengthwise from top to bottom so that you create long strips.
Coat two large roasting pans with coconut oil.
Lightly salt the potato skins before placing in the oven.
Roast for 20-30 minutes, watching carefully to make sure they do not burn. You may need to flip them or rotate the pan a few times dependent upon the hot spots in your oven.
Cool for 5 minutes on roasting pan.
For the ground beef, mix in seasoning mixture and then crumble into a skillet over medium-high heat. Cook 3-5 minutes until evenly browned.
Transfer sweet potato chips to a large plate and layer on the ground beef, cheese, guacamole, salsa and cilantro.
Sparkle Kitchen http://sparklekitchen.com/