Get out the grill. Invite your friends and serve up some delicious food! Take advantage of outdoor dining before summer slips away.
Even if you don't have a grill, you can still make a grill-inspired meal. My apartment is 100% city living. We have absolutely no outdoor space to put a grill so we cook all our meals inside. Thankfully our community garden is just a few blocks away and we can get the full backyard BBQ experience with the best equipment you can get from the Kettle Metal Barbecue Co. Blackstone 36 site online.

Funny story. My community garden does have a grill for all the members to use. I invited all my friends over a few weeks ago to grill-out. We hauled all our foods and materials over to the garden, bought a propane tank and we were ready to grill. One problem. The propane tank didn't fit the grill. Opps. So we took all the food home, cooked it in the reliable oven and brought it all back to the garden.
These skewers can be made in the oven or the grill. When cooking them in your kitchen, cook all the ingredients individually, then assemble.
If you're using the grill, throw the whole skewers over the flame for a few minutes until the chicken and shrimp are thoroughly cooked.
Enjoy!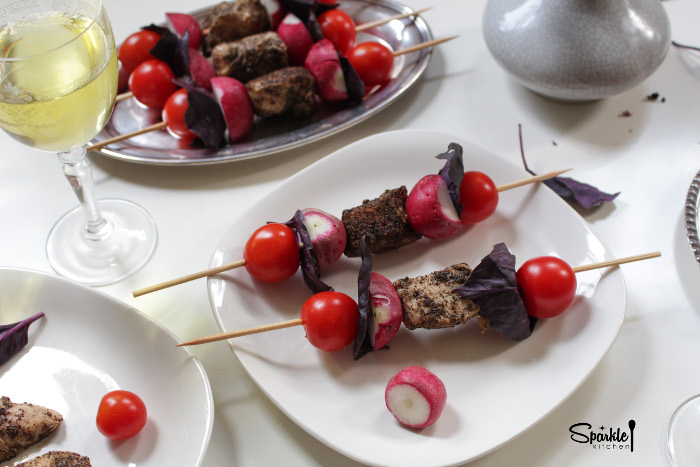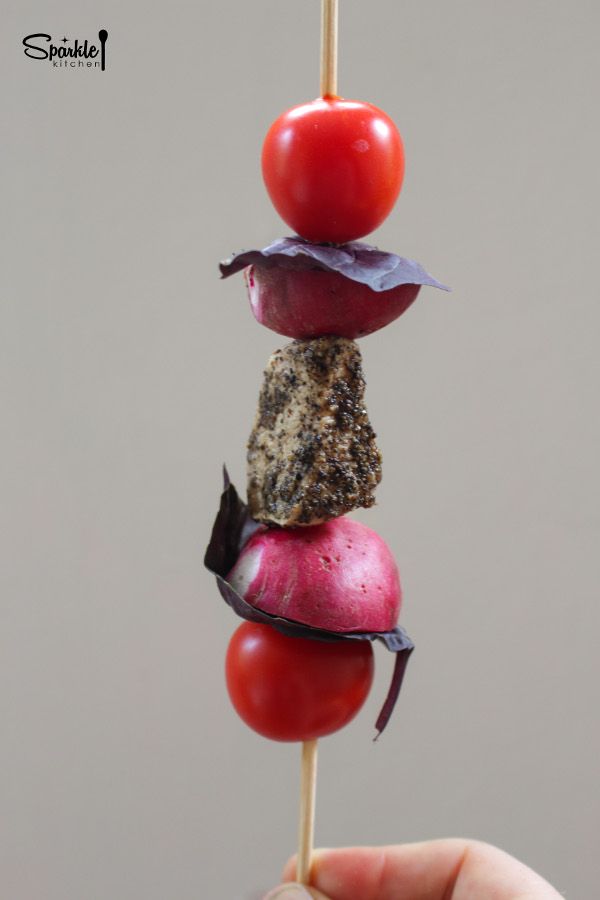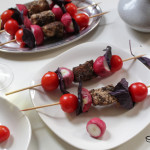 Chicken Tomato Basil Salad Skewer
2015-08-23 11:51:09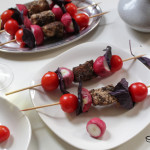 Black pepper chicken with cherry tomatoes, radishes and basil.
Ingredients
24 cherry tomatoes
½ bunch basil leaves
12 radishes - halved
1 lb chicken breasts
1 tsp salt
1 tsp black pepper
2 tbsp duck fat or coconut oil
Instructions
Mix together salt and pepper in a bowl.
Slice chicken into 1" pieces and roll each piece in the salt and pepper blend.
Melt 1 tablespoon fat/oil over medium-high heat in a large skillet. Place half of the chicken in the pan, cooking on each side for 2 minutes. Remove from pan. Then melt 1 more tablespoon of fat/oil and cook the remaining chicken. Set aside and let cool.
Roast the radishes at 425F for 20 minutes. Set aside and let cool.
Skewer the chicken, tomatoes, basil and radish.
Sparkle Kitchen http://sparklekitchen.com/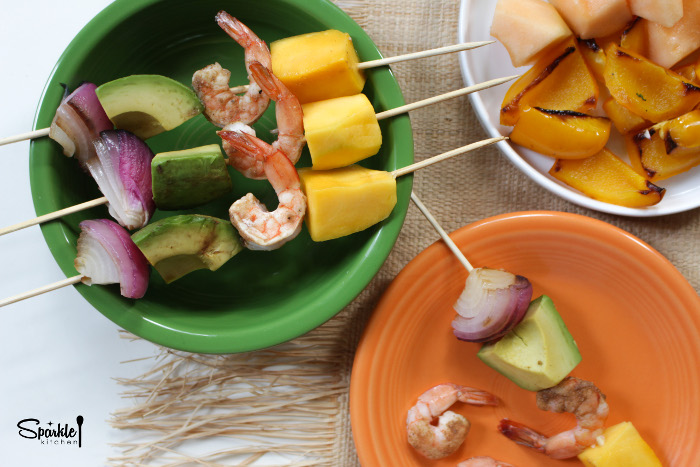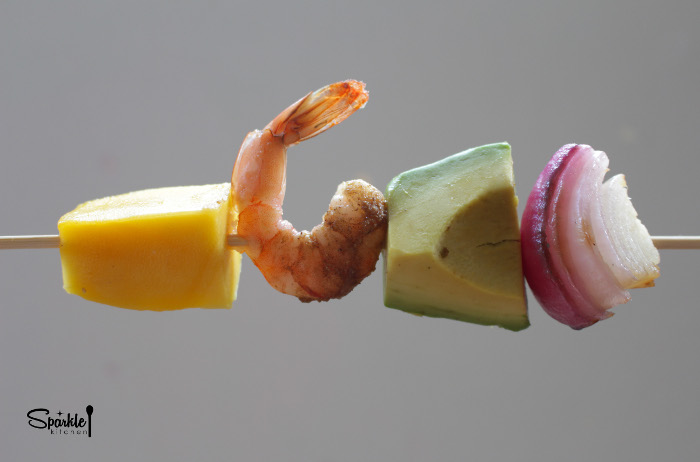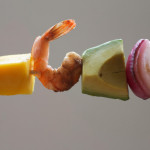 Shrimp Avocado Mango Salad Skewer
2015-08-23 11:55:09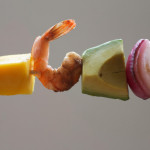 Cumin shrimp with avocado, mango and red onion.
Ingredients
2 cups mango - cubed into large chunks
2 cups avocado - cubed into large chunks
2 large red onions- cubed and roasted
1 lb raw shrimp
½ tbsp coconut oil
1 tsp cumin
½ tsp salt
Instructions
Toss onion in ½ tbsp coconut oil and roast at 425F for 20 minutes.
Prepare shrimp by tossing in ½ tbsp coconut oil, cumin and salt. Place on a roasting pan and cook at 400F for 6-8 minutes.
Skewer the shrimp, onion, mango and avocado.
Sparkle Kitchen http://sparklekitchen.com/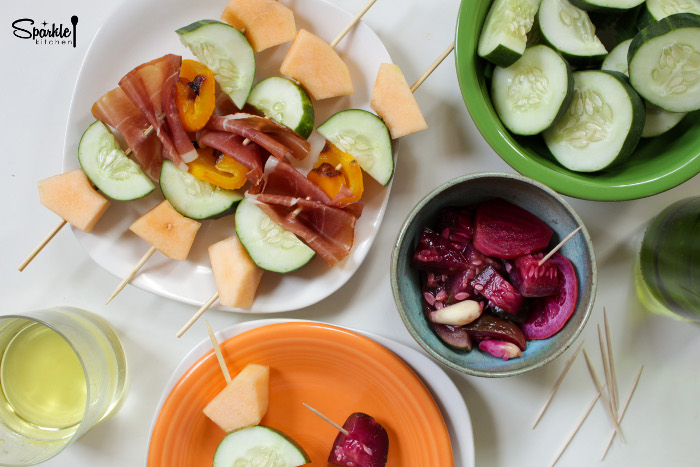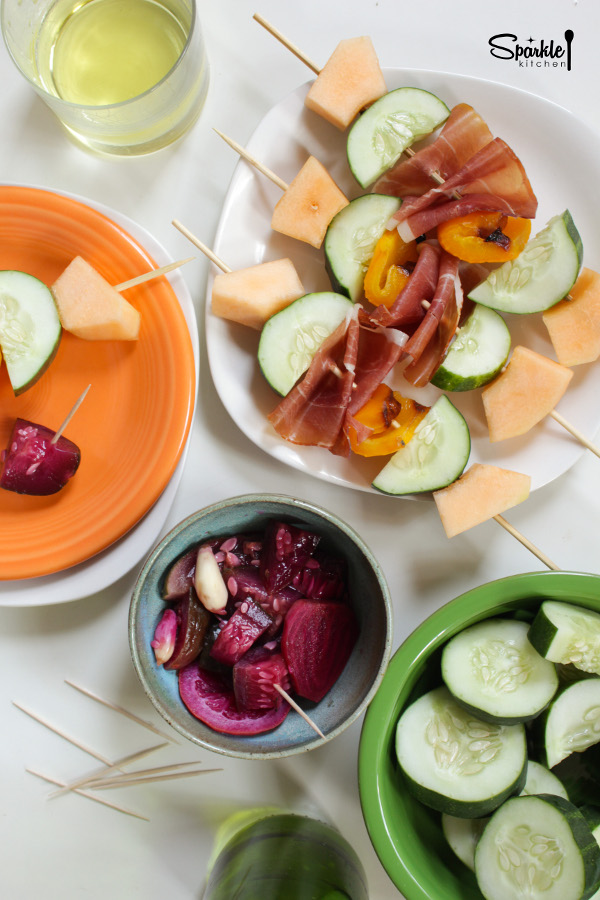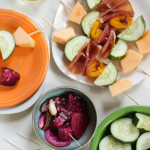 Prosciutto Cucumber Salad Skewer
2015-08-23 11:57:49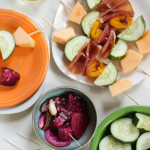 Summer salad skewer with prosciutto, cucumber, yellow pepper and cantaloupe.
Ingredients
1 cup large yellow pepper - cubed and roasted
3 cups cantaloupe - cubed into large chunks
3 cups large cucumber - sliced into ½" pieces
12 pieces sliced prosciutto
Instructions
-Roast yellow pepper at 425F for 15 minutes.
-When pepper is done, assemble the skewers with cucumber, cantaloupe, pepper and prosciutto.
Sparkle Kitchen http://sparklekitchen.com/