Life is tough for a gingerbread man.
They get a brief moment of admiration before they begin losing limbs and heads to hungry sugar monsters. Although, I don't think they mind it. Each cookie brings too much pleasure to the world.
In our family the gingerbread house tradition continues each year. Last year we brought it to a new level…with cardboard and super glue. Don't worry, no one ate it.
My husband and I are too tempted by sweets to make such a ginormous sugar castle. Our solution was to make it inedible. The structure was cardboard held together with duck tape, super glue, ribbon and white royal icing too. The two of us poured hours of love into that house. It had fruit roll-up stained glass windows, hand-carved chocolate doors, an outdoor s'mores roasting station, and a glitter-infused frosting swimming pool with a Kitkat diving board. We wanted to move in! It was a home fit for a gingerbread king.
Many of the decorations fell under the edible category, but I wouldn't necessarily label them safe-for-human-consumption. Candy is sugar; and sugar does not do a body good. The number one ingredient is typically high fructose corn syrup. Candies are now synonymous with decorations.
If you want to read up on how the body reacts to sugar, read this article, Sugar Woes and Avoiding Added Sugar.
Too bad we didn't have these gingerbread cookies to enjoy with the house last year. This recipe was just developed and I'll say it's darn near perfect. The spice is just right and they have that ideal chewy crunch. I even used unsulfured blackstrap molasses, which I learned is the healthiest sugar option.
Enjoy!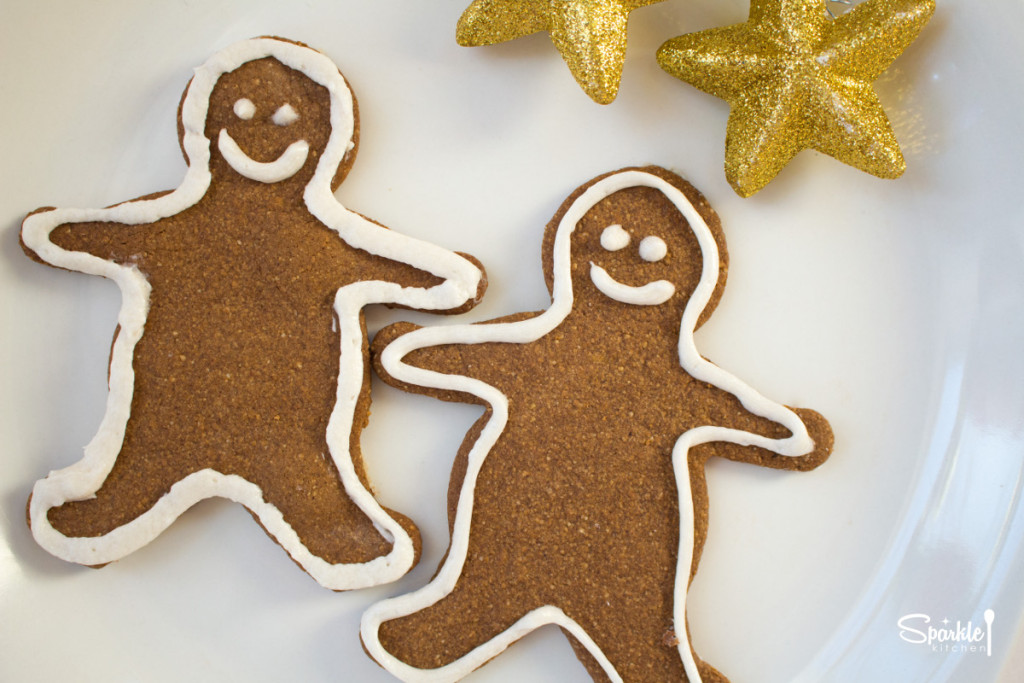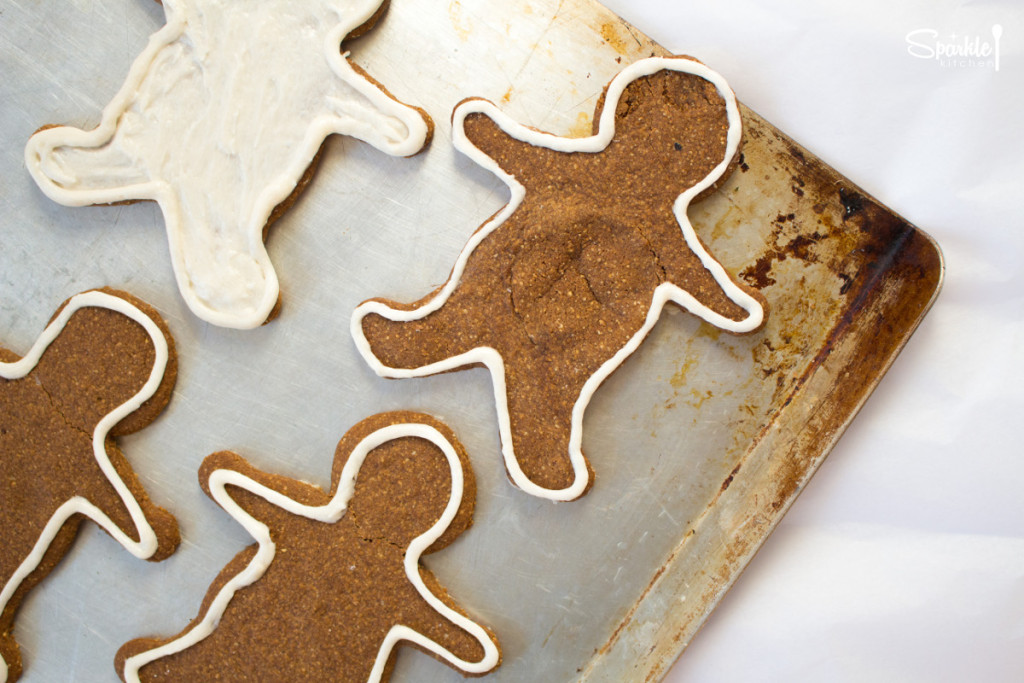 Gluten-Free Gingerbread Cookie Cutouts
2015-12-22 08:58:14
Gluten-free gingerbread cookies made with tigernut flour. The spice is just right and they have that ideal chewy crunch!
Ingredients
½ cup tigernut flour
6 tbsp arrowroot starch
½ tsp baking soda
⅛ tsp salt
1 tsp ginger
1 tsp cinnamon
¼ tsp nutmeg
¼ tsp cloves
¼ cup + 1 tbsp palm shortening
1 tbsp maple syrup
1 ½ tablespoon unsulfured blackstrap molasses
½ tbsp gelatin powder
Extra arrowroot or tapioca starch, for rolling & cutting
Instructions
Preheat oven to 350F degrees.
Mix together tigernut flour, arrowroot flour, baking soda, salt and all spices in a large bowl.
Set aside.
In a separate bowl, melt the palm shortening in the microwave for 45 seconds. Remove from microwave and stir in the maple syrup and molasses. Then carefully sprinkle in the gelatin while stirring. By keeping the liquid moving, you'll prevent any lumps from forming.
Add the wet ingredients to the dry. Combine well.
Form the dough into a firm ball. Wrap in parchment paper and chill in the fridge for 2 hours.
Once properly chilled, remove from fridge.
Prepare a dough cutting station by sprinkling starch over a flat, clean surface. Roll out the dough to ¼" thickness and cut into desired shapes.
Place onto parchment paper and bake for 6-8 minutes.
Notes
NOTE: Make slice and bake cookies by rolling the dough into a log and slicing to ½" thickness.
Sparkle Kitchen http://sparklekitchen.com/
Royal Icing
2015-12-22 09:01:19
Dairy-free, royal icing for cookies and cakes.
Ingredients
½ cup palm oil shortening
¼ cup + 8 tbsp powdered sugar
1 tbsp coconut cream
½ tsp vanilla
¼ tsp gaur gaur
pinch of salt
½ tsp lemon juice
Instructions
Add all ingredients to a large mixing bowl. Cream together by hand or with an electric mixer. Chill for 1 hour before frosting.
Sparkle Kitchen http://sparklekitchen.com/