Mango and avocado are like peanut butter and jelly, meant to be together. Their flavors compliment each other so well. I also view mango as the goddess of all fruit. Every other fruit is in awe of it's seductive power.
Little food carts around the city offer mango slices and mango on a stick. You'd think they were selling donuts by the way crowds line up for it. It is irresistibly, refreshingly satisfying. Give me mango over ice cream any day. Keep in mind though, mango is high in sugar content so I like to categorize it as actual dessert.
This salad is inspired by a fabulous Japanese restaurant in my neighborhood. The mango and avocado are perfectly sliced and presented so beautifully. And the dressing is out of the world good. If you love ginger, this dressing will be a new favorite.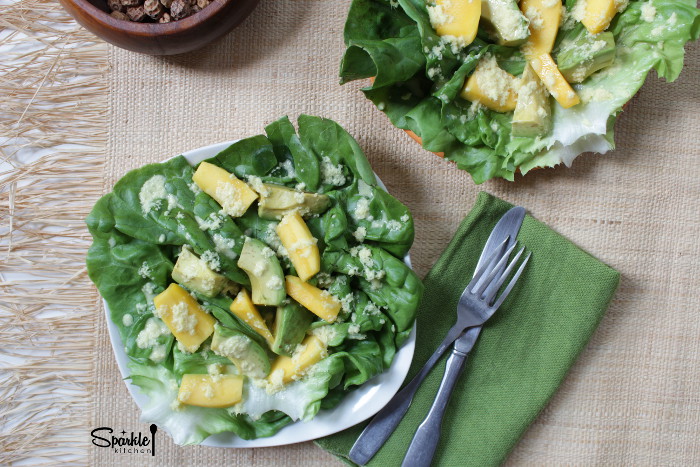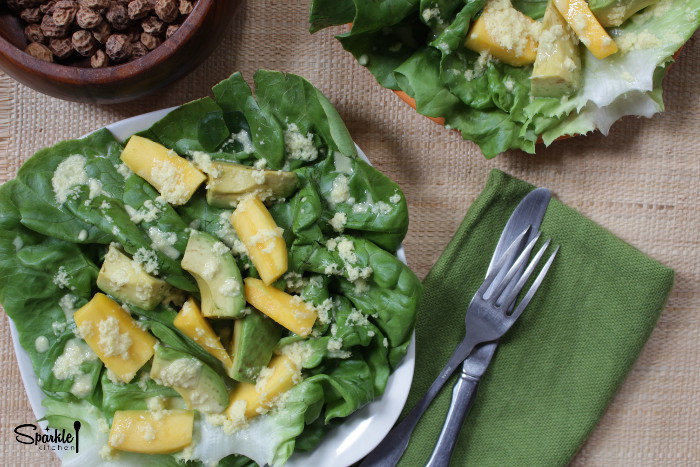 Mango Avocado Salad with Fresh Ginger Dressing
2015-07-29 07:42:29
Serves 2
Mango, avocado and Bibb lettuce with a fresh ginger dressing.
Ingredients
6 cups Bibb lettuce - washed and dried
1 mango - peeled and sliced
1 avocado - sliced
FRESH GINGER DRESSING
3 tbsp fresh ginger - finely chopped
1 tbsp water
1 tsp lime juice
1 tsp coconut aminos
1 tsp rice wine vinegar
1 tbsp avocado oil
dash garlic powder
Instructions
Wash and dry lettuce. Tear into pieces or leave as whole leaves.
Slice mango and avocado. Arrange over lettuce.
For the dressing, combine all ingredients in a large wide-mouth coffee mug. Make sure the mug is large enough for an immersion blender to fit into. Then puree with an immersion blender until smooth and frothy.
Pour dressing over salad and serve.
Sparkle Kitchen http://sparklekitchen.com/