Pad Thai was a special request from my husband. I'm more of a curry over rice kind of girl but he misses the noodles. Noodles have become common in the food allergy world with the invention of the spiralizer
. Although there is an alternative I prefer for Asian dishes: kelp noodles
.
kelp noodles
are made from kelp seaweed, salt and water. They come pre-packaged and ready to eat out of the bag after a quick rinse under warm water. Containing high amounts of iodine, they're an excellent low-carb, gluten-free noodle option. My food co-op sells them and they seem to be easy to find in major grocery stores. The texture is crunchy but if you sauté them a bit they do soften.
For the sauce in this recipe I followed closely to ThePaleoMom's version. Many recipes for Pad Thai call for nut-butter or seed-butter. This is a Westernized version. More authentic dishes are only topped with nuts and may be served with peanut sauce on the side. Pad Thai is a common street food and one of Thailand's national dishes. It's quick to make and only requires a few ingredients. I load mine up with chicken, snow peas and bamboo shoots. You can easily replace these with your favorite protein and vegetable combination.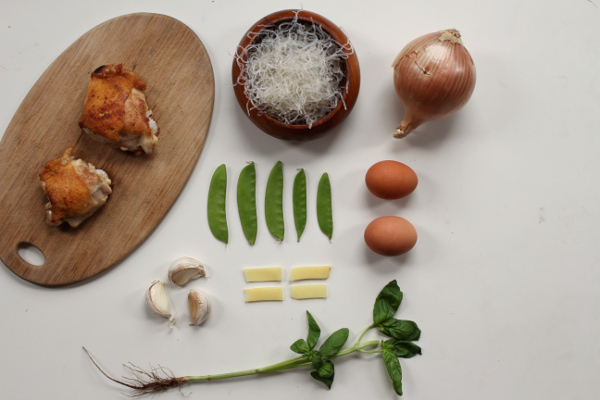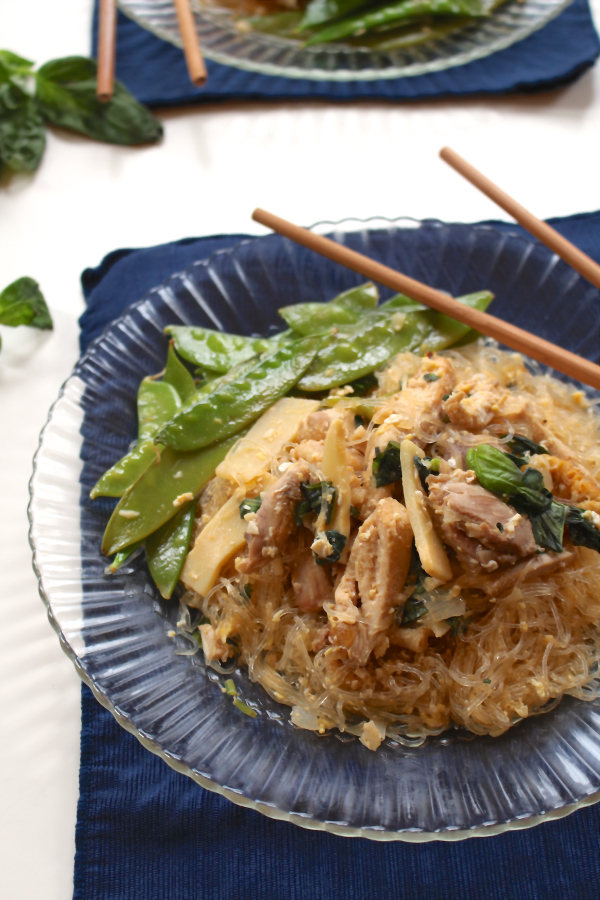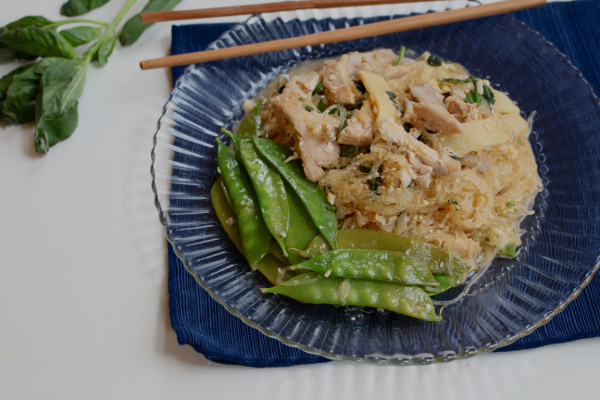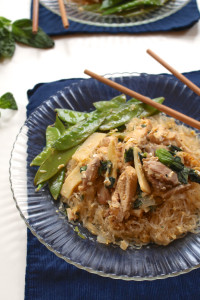 10 Minute Paleo Pad Thai
2015-02-08 13:45:18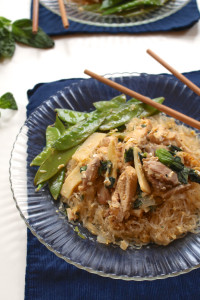 Serves 2
A quick, nut-free & gluten-free paleo Pad Thai with Kelp Noodles.
Ingredients
1 lb chicken thighs - cooked and sliced
3 tbsp coconut oil
1 cup onion - chopped
5 cloves garlic - minced
4 tbsp coconut aminos
2 tbsp fish sauce
4 tbsp fresh lime juice - or bottled
½ tbsp Apple Cider Vinegar
1 ½ tbsp sriracha
2 eggs
1 bag kelp noodles
5 tbsp fresh basil
2 cups snow peas
½ cup bamboo shoots
Instructions
Rinse the kelp noodles with warm water.
In a small bowl mix together coconut aminos, fish sauce, lime juice, apple cider vinegar and siracha. Set aside.
Melt coconut oil over medium-high heat in a wok or large sauté pan. Sauté onions 1 minute then add garlic.
Stir in the chicken, snow peas, bamboo shoots and prepared sauce. Make an open space in the middle of the pan and crack the eggs there. Scramble until just cooked then fold in all other ingredients. Toss in the kelp noodles and basil.
Serve with extra basil and a lime wedge.
Notes
**This is a nut-free version.
Feel free to substitute any protein and vegetables you like.
Adapted from ThePaleoMom's Paleo Chicken Pad Thai
Sparkle Kitchen http://sparklekitchen.com/