They say sauce is the test of a great chef. Master a complex sauce and you can cook anything. Moles are intricate layers of chilies, fruits, garlic, onions, nuts and fragrant spices. Traditionally they are cooked over several hours, allowing the flavors to simmer and infuse together. Well I wanted to make a great sauce but who has time for that?
My mole musings resulted in an abbreviated version of No Gluten, No Problem's 90 Minute Mole recipe. I shortened it a bit and altered the ingredients to suit my preferences. The nuts are omitted altogether since they're a common allergen. You can read all about why I steer clear of nuts in this post. I chose ground spices rather than whole to save time. Ground tends to be just as effective when fresh. Try replacing your spices every six months and you'll notice an extra kick, especially in that cayenne powder!
As I mulled over the intricacies of mole, I realized sauces are an optimal way to include a wide variety of plant foods into your diet. There are 13 different whole fruits and vegetables in this recipe. Talk about nutritional bang! Then by topping this off with avocado, cilantro and jalapeño, you're already up to 16. More plant variety equals more nutrients and a healthier body.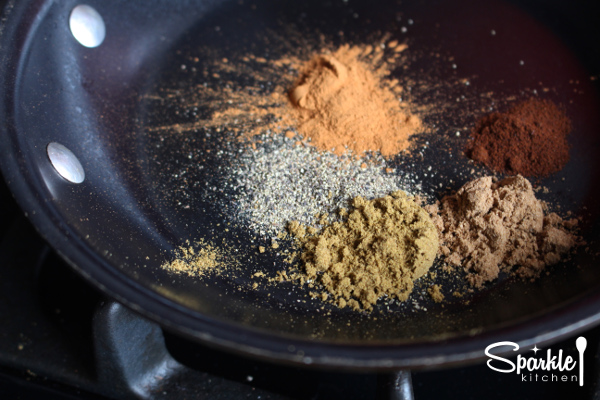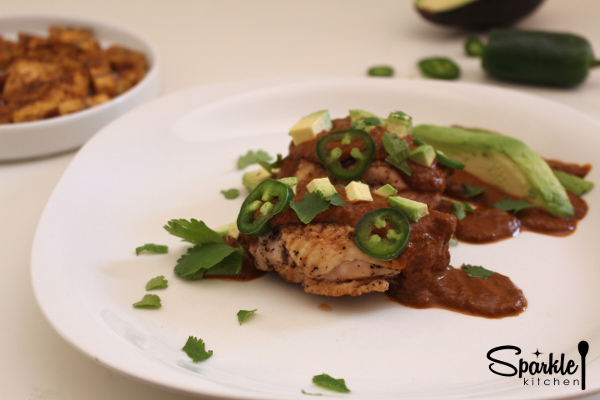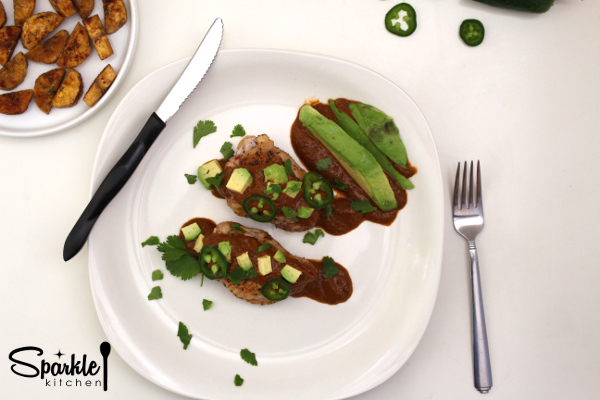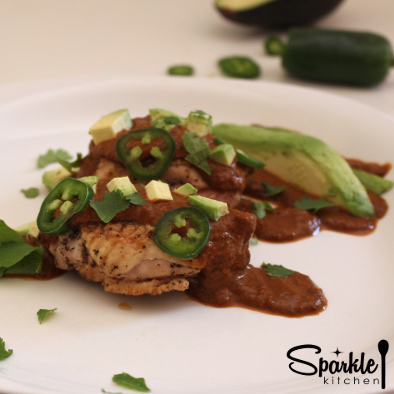 Chocolate Mole over Crispy Chicken Thighs
2015-04-12 19:35:12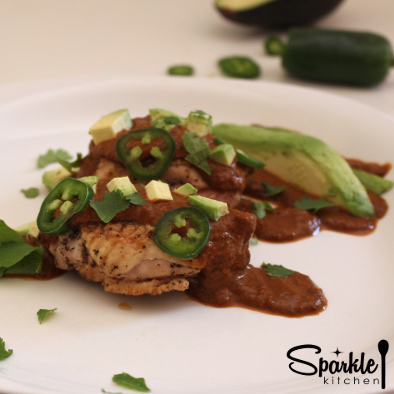 Nut-free Chocolate Mole Sauce
Chilies
10 dried ancho chilies
5 dried poblano chilies
3 dried chipotle chilies
warm water
Fruits and Vegetables
2 1/2 tbsp dried apricots - chopped
2 1/2 tbsp raisins
1 cup onions - chopped
2 tbsp garlic - minced
1/2 tbsp lard
1 cup chicken broth
3 ounces 70-80% dark chocolate
Spices
1/2 tsp ground coriander
1/4 tsp ground cloves
1/2 tsp ground cinnamon
1/2 tsp ground cumin
1/2 tsp black pepper
1 tsp salt - use 1/2 tsp if chicken broth is salted.
Chicken
2 lbs bone-in, skin-on chicken thighs
1 tsp salt
1 tsp pepper
2 tbsp lard
Mole
Saute dried chilies over medium heat for a few minutes. Then submerge chilies in warm water for 20 minutes.
Soak apricots and raisins in warm water for 20 minutes.
Toast spices in a dry pan over low heat for 3-5 minutes. Set aside.
Drain chilies, de-stem and remove all seeds. It helps to run water over them.
Melt lard over medium high heat in your saute pan and cook onions and garlic for 5 minutes. Set aside.
Place chilies, spices, drained dried fruits, onions, garlic, chicken broth, and salt in a food processor. Process until smooth, about 5 minutes.
Melt chocolate in a double boiler and add to the food processor. Pulse to combine.
Chicken
Generously salt and pepper the chicken on both sides.
Melt 1 tbsp lard over high heat in a cast iron skillet or heavy pan.
Place 1/2 the chicken thighs in the pan. Cook on each side for 4 minutes. Then turn the heat to medium low and cook an additional 4 minutes on each side. Repeat for second batch, adding more lard before placing chicken in pan.
Notes
If sauce is too thick, add more chicken broth.
Serve the mole over the chicken thighs with avocado, cilantro and jalapeño.
Adapted from No Gluten, No Problem 90 Minute Mole
Sparkle Kitchen http://sparklekitchen.com/