Sometimes I have no idea what I'm making for dinner. I amble about the store, picking up a few random things here and there. Get home, empty the contents and begin cooking with absolutely no plan.
That's how this recipe was created. It was a weeknight. The hubs and I were just out of yoga and famished. I'd bought a strange combination of foods and crossed my fingers that they would come out well together.
The meal was made in less than 30 minutes and received rave reviews from the hubs and me. Black Bean Noodles
are a new find and I'm loving the texture, a bit chewy like whole wheat pasta. Give them a try and if it's not your thing, you can always use a Spiralizer
to make sweet potato noodles.
Enjoy!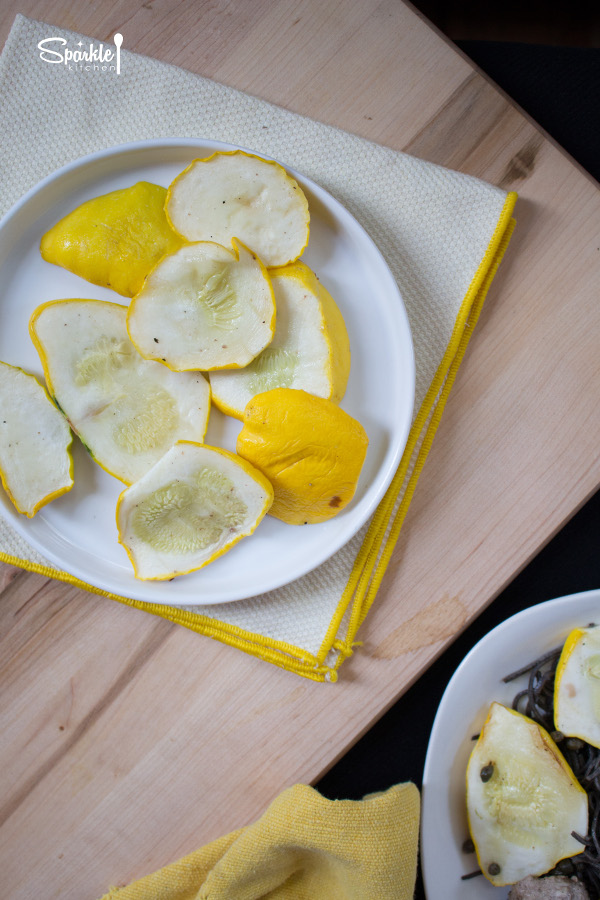 Pork Meatballs, Zucchini and Black Bean Noodles
2015-08-04 16:22:28
Serves 2
Pork meatballs, roasted zucchini, onions and capers over black bean noodles.
Ingredients
1 package black bean noodles
3 cups zucchini - sliced
1 cup yellow onion - sliced
1 lb pasture-raised ground pork
1 tsp fresh basil - chopped
1 tsp salt
1 tsp black pepper
3 tbsp capers
1 tsp coconut oil
3 tbsp olive oil
Instructions
Heat oven to 400 degrees F. Grease a large roasting pan with coconut oil. Spread out the zucchini, onions and capers on the pan and roast for 15 minutes.
Fill a large pot two-thirds full of water. Bring to boil and add the noodles. Cook five minutes then drain in a colander. Set aside.
Make meatballs by rolling pork into 1" balls. Sprinkle all with a little salt and pepper.
In a cast iron pan, cook meatballs over medium high heat for four minutes. Then flip and cook the other side for 3 minutes.
Place noodles in a large mixing bowl, drizzle with olive oil, sprinkle with ¼ tsp salt, ¼ tsp black pepper and the basil.
Plate the noodles, top with vegetables and meatballs. Serve with more fresh basil.
Sparkle Kitchen https://sparklekitchen.com/