Escape to Alaska just once and taste the most delicious salmon of your life. Our family celebrated my grandmother's 80th birthday with an Alaskan cruise. The scenery was spectacular, boating through the pristine Glacier Bay National Park, watching the wildlife, learning about new ecosystems and enjoying fresh salmon every day. Alaska harvests the majority of the wild salmon we eat in the US.
Salmon is the most commonly eaten oily fish with a hearty content of omega 3. Sardines, Anchovies, Mackerel and Whitefish contain high amounts of omega 3 but you see these less often on the menu. Many studies have shown the benefits of including oily fish into your diet at least three times per week. It keeps down inflammation, reduces risk for sudden cardiac death, reduces blood pressure, and Dr. Artemis Simopoulos, Founder of the Center for Genetics & Nutrition says, "a balanced ratio of 1-2/1 of Omega- 6/Omega -3 is necessary for normal development throughout the life cycle."
When choosing what salmon to consume, it's best to bet on a wild caught variety.
Why Eat Wild?
►Farmed Salmon is fed a mixture of vegetable oils and oilseeds that increase the omega 6 content.
►Farmed Salmon does not contain choline. Choline is tied to functions including memory and muscle control and is necessary for cell membranes structure. Choline must be consumed in the diet to maintain health.
►Wild Salmon has twice the amount of selenium, which is required for the body's natural protection against oxidants. It is responsible for protecting the brain against oxidative damage. Selenium deficiencies are also linked to thyroid disease, cardiovascular disease and cancer.
►Farmed Salmon is raised in coastal net pens, which is in direct contact with the surrounding marine environment. The waste from these farms is released directly into the ocean and parasites and diseases can spread into the wild.
►Salmon farmers may use pesticides and antibiotics to control outbreaks of disease.
►Farmed Salmon may be the first Genetically Modified (GMO) animal food. Quite alarming considering the FDA does not test GMO foods and is not focused on what happens to people who eat GMO foods. The FDA is still determining whether or not they will bring the product to market.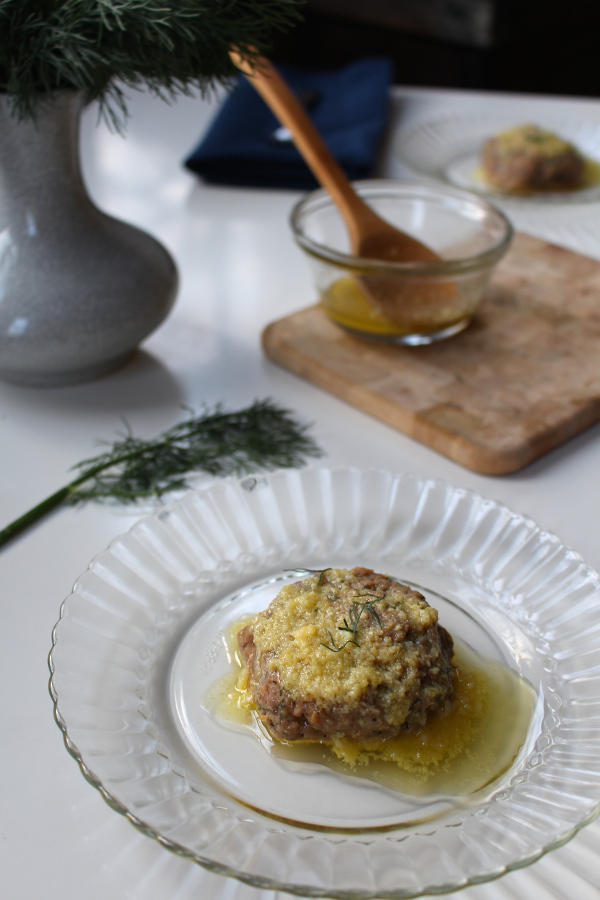 What Salmon are you Eating?
Wild Atlantic Salmon – Currently threatened from overfishing and it's illegal to harvest them in the US. So if you see them for sale, you'll know something is fishy.
Farmed Atlantic Salmon – The majority of farmed salmon sold in the US is this variety. They're raised in Canada, Chile, or Europe with a very small percentage coming from Maine.
Chinook Salmon – Also called King Salmon and most prized in the culinary world. Harvested all along the western US coast.
Chum Salmon – Least common variety, harvested in Alaska and have a lower oil content than other species.
Coho Salmon – Can be called Silver Salmon and most come from Alaska. They are also fished along the coasts from Russia to Japan.
Pink Salmon – Majority is packed and sold in cans. Harvested mostly in Alaska and accounts for close to half of all Alaska's salmon harvest.
Sockeye Salmon – Most valuable salmon and when sold in the US close to 100% comes from Alaska.
Read labels carefully and ask your fish monger where and how they harvest the fish. If you're skeptical then find another source or buy canned salmon online. Amazon is my go-to for hard to find food items. Two brands I trust are Wild Planet Foods
and Vital Choice
.
I typically bake salmon with coconut oil and then add an herb salt blend. That gets boring fast though. This recipe was inspired by the Salmon Croquettes my grandmother used to make. To make them gluten-free I substituted traditional bread crumbs with tapioca flour. They come out nice and crispy!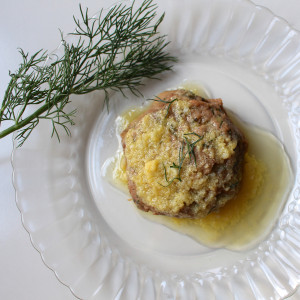 Baked Salmon Cakes
2015-02-08 06:49:36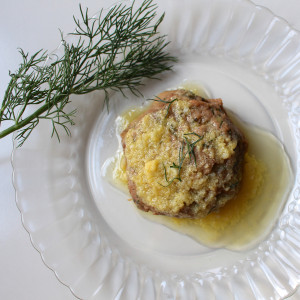 Serves 4
Gluten-free, crispy baked salmon cakes. Substituting traditional breadcrumbs with tapioca flour.
Ingredients
1 tbsp coconut oil
½ tsp salt
1/2 cup tapioca flour
1 tsp black pepper
½ tsp cayenne pepper
¼ cup onion - minced
2 cans salmon - 14.75 oz per can
3 tbsp fresh dill - chopped
2 eggs
Instructions
Preheat oven to 350 degrees. Grease a baking sheet with coconut oil. Set aside.
Combine all ingredients except the coconut oil into one large mixing bowl. Stir well.
Form into palm-sized patties.
Place on backing sheet about 1/2 inch apart. Bake for 20 minutes or until crispy.
Sparkle Kitchen https://sparklekitchen.com/
Resources:
Omega-3 Fatty Acid Biochemistry: Perspectives from Human Nutrition, http://www.ncbi.nlm.nih.gov/pubmed/25373090
The importance of the ratio of omega-6/omega-3 essential fatty acids. http://www.ncbi.nlm.nih.gov/pubmed/12442909
Dose-dependent consumption of farmed Atlantic salmon (Salmo salar) increases plasma phospholipid n-3 fatty acids differentially. http://www.ncbi.nlm.nih.gov/pubmed/23351633
Survey of n-3 and n-6 polyunsaturated fatty acids in fish and fish products. http://www.ncbi.nlm.nih.gov/pubmed/23110317
A new predictor of risk for sudden cardiac death. http://www.ncbi.nlm.nih.gov/pubmed/16961172
Omega-3 fatty acids and cardiovascular disease. http://www.ncbi.nlm.nih.gov/pubmed/17284999
Circulating and dietary omega-3 and omega-6 polyunsaturated fatty acids and incidence of CVD in the Multi-Ethnic Study of Atherosclerosis. http://www.ncbi.nlm.nih.gov/pubmed/24351702
Omega-3 fatty acids lower blood pressure by directly activating large-conductance Ca2+-dependent K+ channels, http://www.pnas.org/content/110/12/4816.short
Guide to Omega-3 Levels of Fish, http://www.genesmart.com/filebin/pdf/Fish_Guide.pdf
Choline, http://lpi.oregonstate.edu/infocenter/othernuts/choline/
Threat of Farmed Salmon from the monterey bay aquarium seafood watch® program, http://www.seafoodwatch.org/about-us/faqs
Genetically Modified Salmon, http://www.foodandwaterwatch.org/food/genetically-engineered-foods/stop-frankenfish/
Types of Salmon, http://www.fishwatch.gov/seafood_profiles/species/salmon/group_pages/index.html