The land of perfect tomato sauce, prosciutto, cheese, gelato, and olive oil, Italy is a foodie's paradise. I spent last week touring and tasting my way across the country. Northern Italy is all about the simplicity of flavors, highlighting the food in it's purest form. And known for it's health benefits of course. The Mediterranean Diet is touted as disease preventing and a cure for many of our modern ailments. I was most intrigued by the olive oil. Oils are quite fragile and if not processed properly, all the health benefits are nil. I wanted to find out why Italy has some of the best olive oil in the world and how it differs from other countries.
Driving through the Italian Veneto countryside, we finally arrived at the family-run Frantoio Bonamini Olive Oil Mill. A women greeted us enthusiastically and proceeded to give us a two hour personalized tour. She and her husband run the mill with a small staff of family members.
Many businesses in Italy are run by close-knit families with outsiders only welcome to help during the harvest season. We were led through a thorough history of olive oil production, equipped with beautifully preserved, ancient equipment. Then our host, Sabrina, compared her modern method to this process.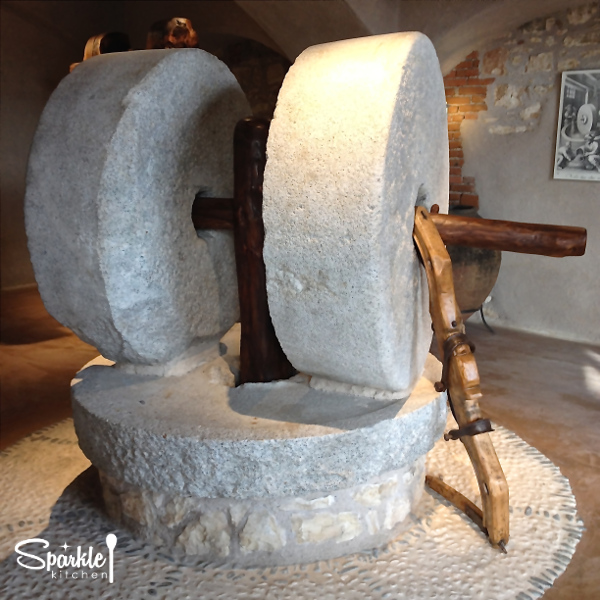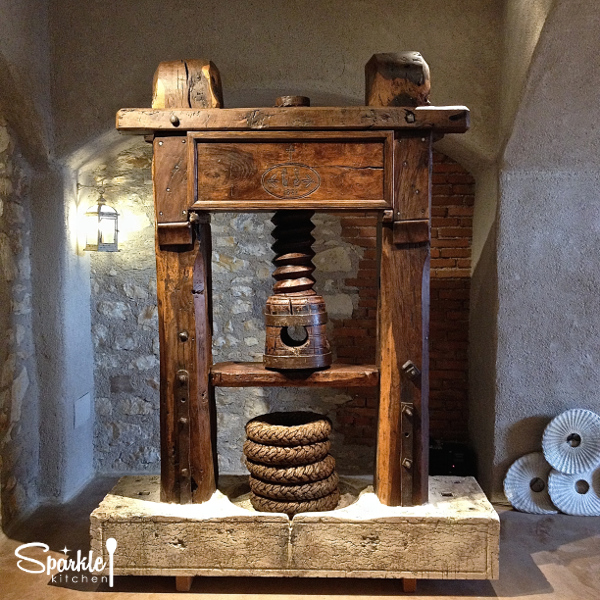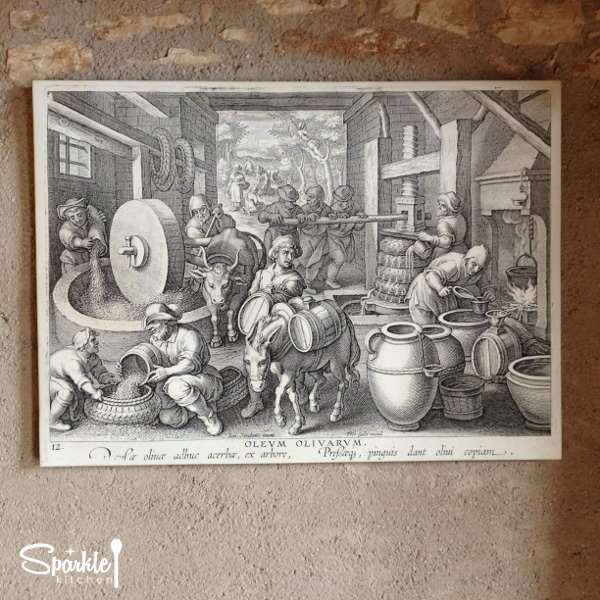 Harvest begins in September and can go as long as December. The time of harvest determines the resulting flavor profile of the oil. At Bonamini, harvesting is done without machinery. Mats are laid under the trees and racks are run through the branches to loosen the olives from the trees. This seemed like tedious work as I looked out onto the acres and acres of trees. The olives are then processed within four to six hours. Once olives fall from their branches they begin to oxidize. The enzymes are very active during this time and increasingly degrade. A longer wait time between harvest and processing leads to higher acidity and fewer antioxidants.
The olives are then washed in cold water, and moved to a new machine for crushing in stainless steel drums. During the pressing, the oil is separated from the pits and the water. It is a sealed extraction method, which is best for preventing the continued introduction of oxygen, as well as light to the oil. One olive only produces a few drops of oil. Bonamini runs a zero waste facility, every once of by-product is reused. The pits become fuel for heating the buildings, the olive mash becomes rich compost, and the water is used for the fields. Processed oil is then stored in sealed, oxygen-free stainless steel drums to protect it from light and air. Then it's bottled in dark tinted glass bottles and shipped out to customers. Each bottle has a two year shelf life if stored properly in a cool, dark place.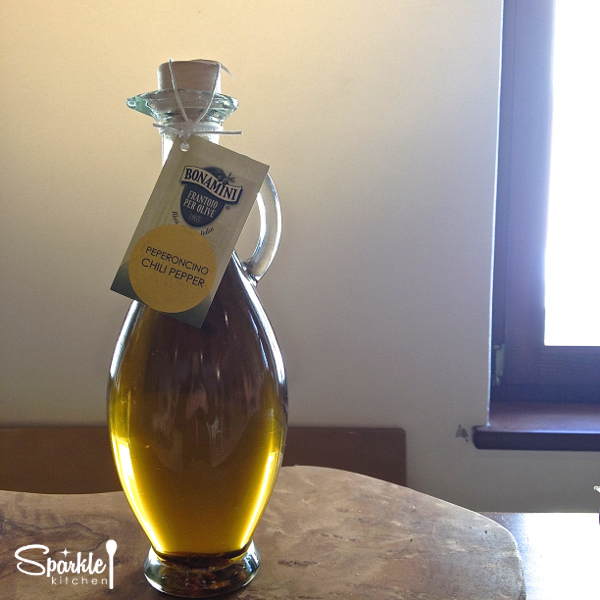 Then is was time for the tasting. Olive oil tastings are performed with blue glasses to mask the color of the oil. Since we were in Italy I assumed this was purely for aesthetics, but no, the color of the oil actually has no bearings on it's flavor. You begin by placing the little shot glass of oil in your left hand and cupping the top with your right hand. This warms the oil a bit to strengthen the flavors. Then take a sip, hold it in your mouth, and suck in air through your lips just slightly. The oxygen activates the oil and I was able to taste the sweetness on my tongue, and a grassy taste with a slight tingle in the back of my throat. This tingle is the polyphenols, the strong antioxidants present in olive oil.
During our tasting, Sabrina explained how Italian oil differs from all other producing countries. Only two types of olive oil are permitted for production, Olive Oil and Extra Virgin Olive Oil. Olive Oil has been heated above 80 °F and therefore the antioxidant properties have been destroyed. Extra Virgin Olive Oil is cold pressed to preserve these delicate compounds. This is actually a government regulation applicable to all of the European Union, providing strict enforcement of olive oil labeling. Food products in Italy also come labeled with the Denominazione d' Origine Protetta (DOP) or Protected Designation of Origin (PDO), which certifies that all components of the product are sourced from a particular region. Region determines flavor. So the olive oil produced by Bonamini carries the label, P.D.O. Veneto, similar to the way Champagne can only carry that name if produced from the Champagne region of France.
When I asked Sabrina to explain "light" olive oil or "extra extra" virgin oil oil, she just shook her head. In the US and and outside the European Union, there are fewer regulations in oil production. The only actual certification in the US is the Organic label. All others are determined by the producer. Olives can be grown organically and then processed with the heat method, destroying the oil's health benefits. We were advised to research any olive oil producer before purchasing to ensure proper methods.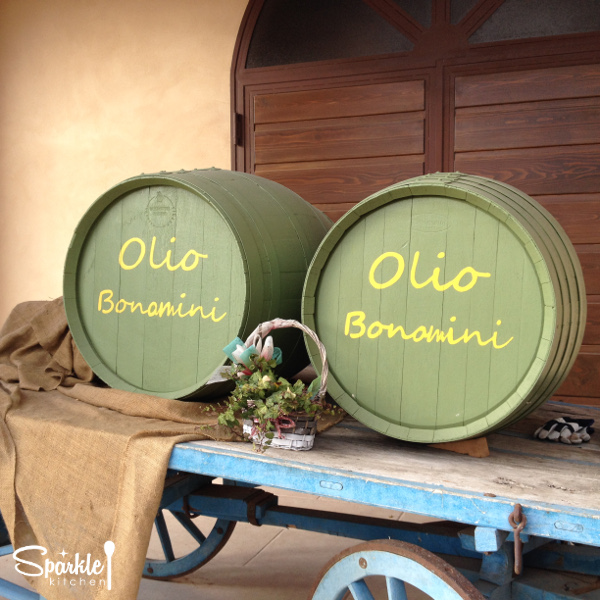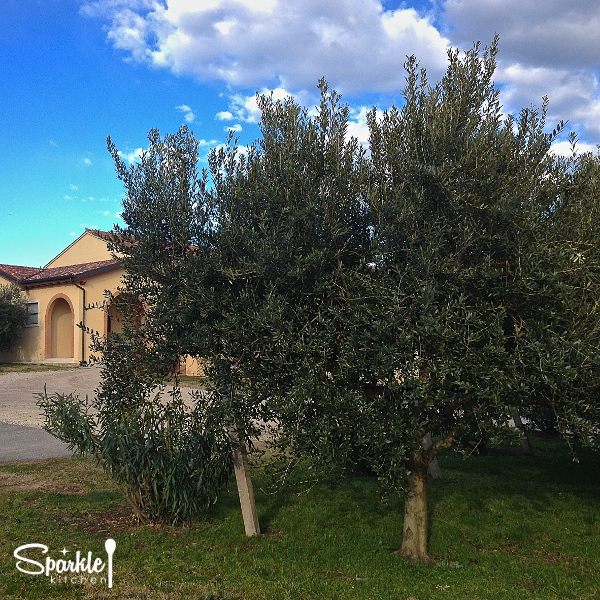 How to Select Olive Oil
►Olive Oil – Processed using heat that has oxidized the oil and destroyed the antioxidant properties.
►Extra Virgin Olive Oil – If from a European Union(EU) country, the oil is cold-processed, preserving the delicate properties. Carefully check with the producer's methods if from a non EU country.
►First Press – From the first pressing of the olives, resulting in higher quality.
►Cold Pressed – Oil is never heated above 80 °F to preserve antioxidants.
►Stone Milled – Ancient method of extracting oil, rarely used now. Produces the least processed oil, although difficult to prevent oxidation from more exposure to air.
►Organic – Olives grown without the use of pesticides.
►Fair Trade – Payment of higher prices to exporters, as well as higher social and environmental standards.
►Extra Extra Virgin Olive Oil – The "Extra" extra is only a marketing ploy.
►Light and Extra Light – All olive oil has the same amount of calories. Light refers to the flavor and is made from the second pressing of olives, resulting in lesser quality.
►Type of Bottle – High quality oil is sold in dark, colored glass bottles to prevent light and air from oxidizing it. Clear bottles are typically lesser quality and allow light in to damage the oil.
►Date Stamp – Read the back of the label to find a date stamp. Two dates may be presented, a bottled date and a harvest date. The harvest date is the one to look for. Olive oil has a two year self life from harvest date. If the bottled date is only present the oil could have already sat in the steel drum for months or up to a year before bottling.
►Oil Color – When stored in a clear bottle, look at the oil color. Many of these may have been mixed with other oils, such as canola or sunflower as well as colorants.
►Country of Origin – Various statements of geographic origins may be claimed on the label when in fact the oil was grown in one place and processed in another country. Look for the DOP or POD to ensure full production was performed in the country indicated.
►Acidity Level – To preserve high antioxidant properties the acidity level must fall to a specific scale. See if the acidity level is indicated on the back label. Bonamini provides this on each bottle.
If you want to ensure your oil has the most nutritional benefit, use this guide, Flos Olei, created by Marco Oreggia.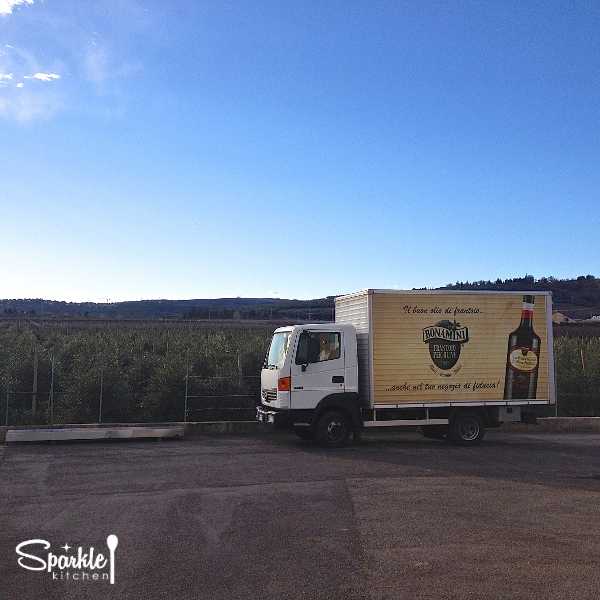 Resources:
Frantoio Bonamini Olive Oil, http://www.oliveoilshop.it/main_page/category_tree,1/sid,0q1vd38i7d2096gqbu85l64qq7
Olive Oil Extraction, http://en.wikipedia.org/wiki/Olive_oil_extraction
Definition of Protected Designation of Origin, http://www.oliveoilsource.com/definition/protected-designation-origin-pdo
The Jungle Effect, Daphne Miller M.D.
The Scam Of Olive Oil, And Its Antidote, http://www.forbes.com/sites/cathyhuyghe/2014/03/05/the-scam-of-olive-oil-and-its-antidote/
Marco Oreggia's Guide to Reputable Olive Oil Farms, http://www.marco-oreggia.com/fo2015_azbygeo.htm