Letting go of oatmeal was a painful break-up. I had a special closeness to my morning oatmeal. That bowl of comfort I'd lean onto for support to begin my day. As I transitioned to a mostly grain-free diet I developed recipes that tricked my brain into thinking it was enjoying oatmeal.
Sweets define breakfast in our modern diet. Cereal, muffins, croissants, bagels, granola, protein bars and oatmeal are all just excuses to eat sugar for breakfast. Breakfast should be a complete meal just like lunch and dinner. It needs protein, fat, and carbs to fuel your morning. I am 100% guilty of succumbing to eating dessert for breakfast. Back in my lacking nutrition years, I'd start my day with a vegan cinnamon scone and a decaf soy latte. Then I graduated to oatmeal. And I made it fancy, adding cocoa powder, raisins, peanut butter and lots of honey. No wonder I was always exhausted after breakfast. That much sugar put me into a food coma.
To create oatmeal alternatives, I've experimented with various vegetables and fruits mixed with coconut and eggs. All of the recipes in this list represent a nourishing meal free of little added sugar. The recipes in the recipe boxes were created by me and the others were developed by fabulous wellness chefs and nutrition experts.
List of Additional Toppings:
fresh berries
pomegranate seeds
bacon crumbles
coconut flakes
cacao nibs
any nuts or seeds
nut or seed butters
dried fruit
maple syrup
cinnamon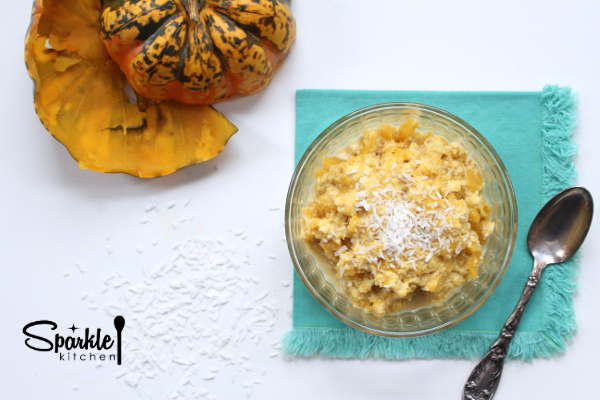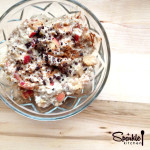 Apple Pie Breakfast Bowl
2015-02-09 11:03:27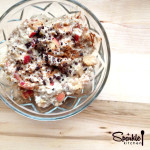 Paleo alternative to oatmeal with apples and coconut milk.
Ingredients
1 cup apple - chopped
1 tbsp coconut oil
2 eggs
2 tbsp coconut cream
½ tsp vanilla
1 tsp cinnamon
dash of cloves
optional: cacao nibs, more cinnamon, maple syrup
Instructions
Melt coconut oil over medium heat and sauté apple for 3 minutes. Turn off heat. Pour into a bowl and set aside.
To the pan, add 2 eggs, 2 tbsp coconut cream, 1 tsp cinnamon, ½ tsp vanilla, dash of cloves.
Use a silicone spatula to whisk constantly over low heat for 3 minutes. Lift pan from heat if egg begins to cook too quickly.
Remove from heat and stir in apples.
Top with cinnamon and cacao nibs. Add a slash of maple syrup if you prefer it sweeter.
Notes
*Variation: Swap the apple with green plantains.
Sparkle Kitchen https://sparklekitchen.com/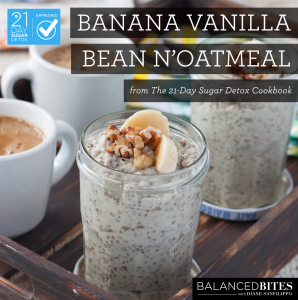 Banana Vanilla Bean N'oatmeal (21DSD) by Diane Sanfilippo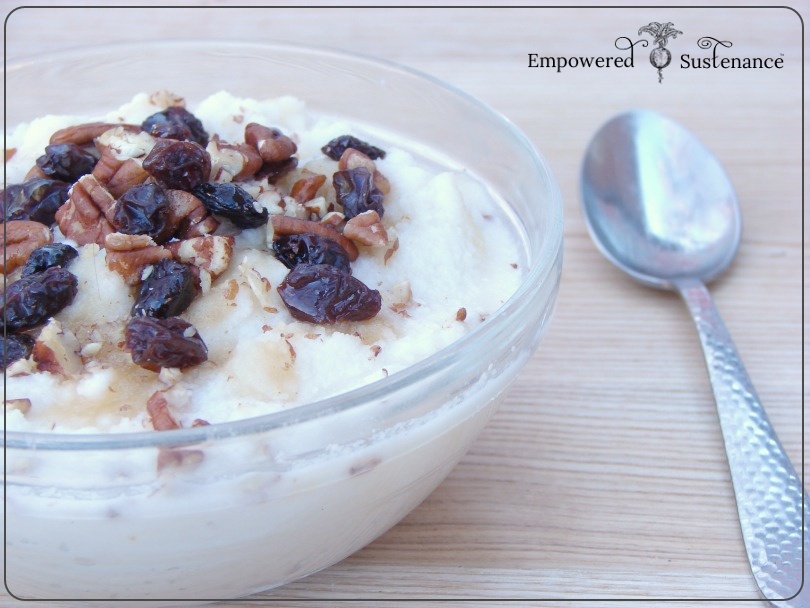 Oat-Free Paleo Oatmeal by Lauren Geertsen of Empowered Sustenance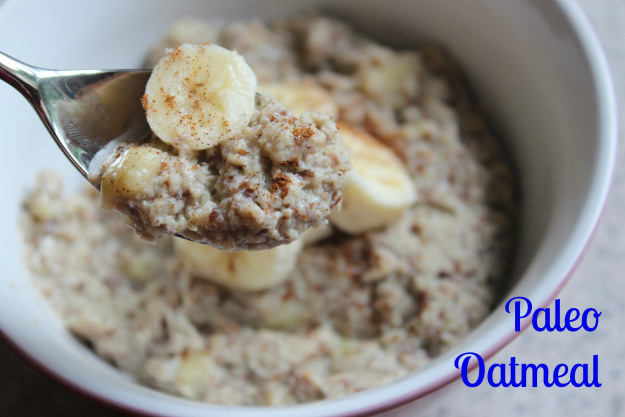 Paleo Oatmeal by Lauren of Sizzle Eats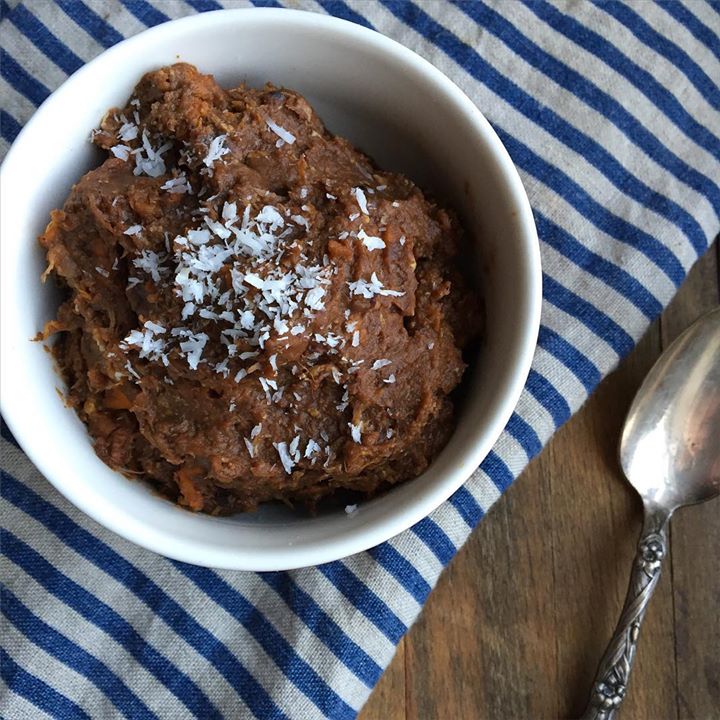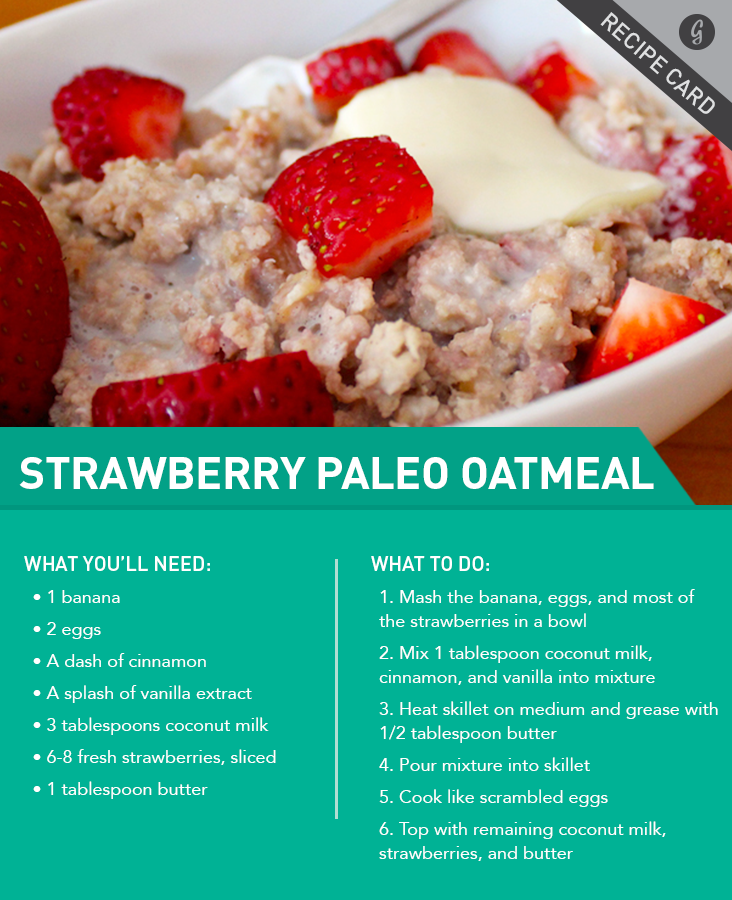 Strawberries and Cream Paleo Oatmeal by Leslie Klenke