The November recipe for the Local Eats Project is here! I really thought there would be less variety to work with this month but I sure was wrong. The Northeast is still showing gorgeous colors at the farmers market. The unseasonably warm weather is helping things out too. For a sinful vegan follower like me, living a healthier life is a must that made my life easier and fun to get that healthy lifestyle and inner happiness.
If you're new to the Local Eats Project you can find all the rules to play along here. But basically, once per month I'm making one meal made entirely from local foods.
With this project I always want to challenge myself to cook something I've never tried before. One, to stretch my creativity and two, to eat a larger variety of foods to support my microbiome. My digestive health improves and my brain stays stimulated as well.
As I browsed the market, the oddly colored cauliflowers, orange and purple, sprung an idea: a cauliflower gratin to call back my Southern roots. I knew there was a way to make dairy-free cheese with butternut squash but I had not attempted it yet. No better time than now! I got to work and whipped up a casserole to make my mamma proud. To find other vegan and vegetarian ideas you can visit https://www.plantalternative.com/.
So what makes the cauliflower so colorful? Well it's actually naturally occurring. The orange variety has more beta-carotene and the purple has the antioxidant anthocyanin, which is also found in red cabbage.
Here are the farmer market ingredients I took home:
2 heads cauliflower $10.00 ($3.50 per lb)
2 butternut squash $05.25 ($2.50 per lb)
1 medium onion $02.15 ($3 per lb)
1 bulb garlic $00.10 ($10 per lb)
TOTAL $17.50 (to serve 6 people)
Everything else I purchased at my local food co-op.
Jacksons Honest Chips are used to make the crunchy topping. I choose these over other chips because they're made with coconut oil. Most other chip brands use canola or safflower oil I'm not crazy about. You can most easily find them at Whole Foods.
I'd love to see your Local Eats Project recipes! Post the recipe, photos and cost of your meal on your website or any social media site and share the love of local food. #localeatsproject
Enjoy!

RESOURCES:
The Story Behind Orange Cauliflower
http://www.saveur.com/article/Kitchen/The-Story-Behind-Orange-Cauliflower
What's the Deal with Purple and Orange Cauliflower?
http://www.thekitchn.com/look-purple-and-orange-cauliflower-ingredient-intelligence-33348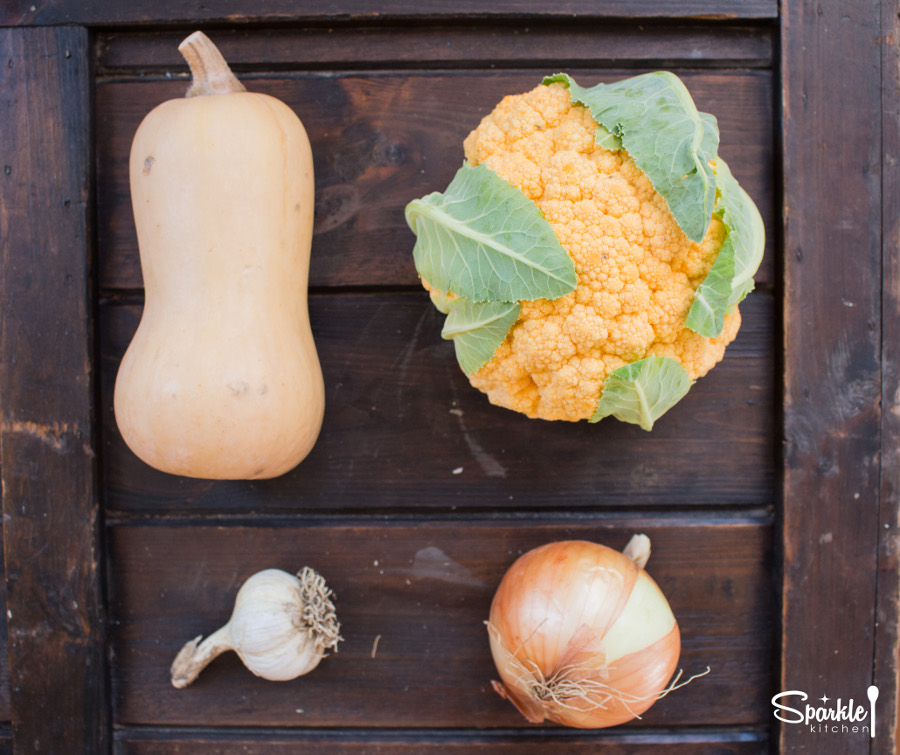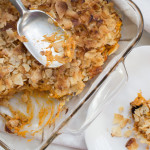 Roasted Cauliflower Gratin - Dairy-Free/Paleo/Vegan
2015-11-16 05:01:28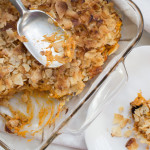 Serves 6
A creamy, dairy-free cauliflower gratin made with butternut squash "cheese" and nutritional yeast.
Ingredients
4 cups cauliflower - chopped into bite-sized pieces
1 cup sweet onion - thinly sliced
3 tsp coconut oil - for roasting pan
1 bag (5 oz) Jackson's Honest Sea Salt Potato Chips - for topping
"CHEESE" SAUCE
2 cups butternut squash - cooked and pureed (canned butternut squash works too)
1 cup canned fullfat coconut milk - I use Native Forest Organic brand
1 tbsp arrowroot powder - for thickening
3 tsp lemon juice
1 tsp apple cider vinegar
1 tbsp garlic - minced
¾ cup nutritional yeast
2 tsp smoked paprika
1 tsp salt
1 tsp black pepper
¼ tsp grated nutmeg
Instructions
Pre-heat oven to 425F degrees.
Toss the cauliflower and onions with coconut oil and salt. Spread evenly across a roasting pan and roast for 20 minutes, flipping them over halfway through.
While the cauliflower and onions are roasting, make the sauce.
Add the coconut milk and arrowroot to a medium saucepan over medium-low heat. Begin whisking constantly as the mixture heats. Make sure there are no lumps.
Turn off the heat. Pour the milk into a food processor and add in all sauce ingredients including the cooked butternut squash. Puree on high for 5 minutes.
Pour 1 cup of sauce into the bottom of an 8½"x11" baking dish. Spread the cauliflower on top and then pour on the remaining sauce.
Reduce oven temperature to 350F and bake for 10 minutes.
Remove from oven and sprinkle the top with the chip crumbles.
Turn oven to broil and cook for 8 minutes until chips are crunchy.
Serve immediately so that the chips stay crunchy.
Sparkle Kitchen https://sparklekitchen.com/