Skip the flour, skip the deep fryer. Go straight to the oven with these tasty hot wings. You may actually use toaster oven to cook this delicious hot wings! you will surely love this!
It's a misnomer that chicken wings are unhealthy. Traditionally they are dredged in flour and dunked into a deep fryer to make the crispiest chicken. That's just not required. Baking at a high temperature achieves the same effect.
A trifecta of honey, lime and garlic infuses these wings as they bake. The chicken stays tender and you could even skip the sauce entirely.
Marinate the chicken overnight for the lime and garlic flavors to really come through. Just make sure to marinade for at least 30 minutes. Chicken needs a little help to keep it tender.
I use a combination of Frank's Red Hot and Cholula Chili Garlic Hot Sauce to achieve a powerful garlic kick. We're big garlic fans in my house (and may over use it). Any hot sauce can be used. Just make sure it is gluten free. Take a look at this list for confirmation.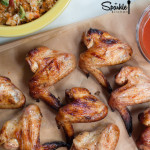 Honey Lime Hot Wings
2015-07-03 15:46:35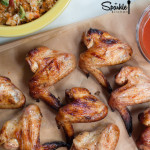 Serves 4
Hot honey, lime chicken wings roasted in the oven.
Ingredients
3 lbs pasture-raised chicken wings
Marinade
2 tbsp honey
¼ cup lime juice
1 ½ tbsp garlic
1 tbsp salt
½ tbsp pepper
3 tbsp Frank's Red Hot sauce
3 tbsp Cholula Chili Garlic sauce
For the Sauce
1/4 cup Frank's Red Hot sauce
1/4 cup Cholula Chili Garlic sauce
1/3 cup grass-fed butter or ghee
Instructions
In a large bowl, mix together all marinade ingredients. Toss and coat the wings. Cover and refrigerate for at least 30 minutes.
Preheat oven to 400 degrees.
Line a baking sheet with aluminum foil or parchment paper. Place a metal rack on top (a cooling rack for baking works well).
Arrange the wings on the metal rack and bake for 40 minutes, flipping after the first 20 minutes.
Remove from oven. Turn on Broil.
Once fully heated, broil hot wings for five minutes until crispy.
Prepare the sauce by melting the butter and hot sauce together, either on the stove or in the microwave.
Toss cooked wings in sauce and serve.
Enjoy!
Notes
For a dairy-free version, melt a 1/3 cup of lard or coconut oil with 1/2 cup hot sauce.
Sparkle Kitchen https://sparklekitchen.com/