This week I'm reading Vicki Robin's Blessing the Hands That Feed Us: Lessons from a 10-Mile Diet
. Vicki challenged herself to one month of hyper-local eating. I pondered whether I'd be able to sustain this for two days much less one month. Seeing that spring has finally sprung and the bounty of produce is on it's way, a ten mile diet may actually be feasible in Brooklyn.
With the abundance of rooftop farms and community gardens, it's becoming easier to live off the city land. The only thing missing is a good protein source. A few years ago a debate over goat keeping arose in the city and it still has yet to be approved. Thankfully Vicki did not have these urban barriers. She was living on Widbey Island in Puget Sound, Washington with access to green pasture and room for grazing animals.
As I dig deeper in this local food experiment I'm wanting to shift my behaviors and be more mindful of my food sources. I become disconnected to seasonal eating in the winter, choosing foods solely on recipe ideas that popped into my head. This is completely unaligned with my sustainability values. I recognize it's unrealistic to adhere to a strict local food diet, but I can make better choices. So that's the inspiration for this Spring Pea and Asparagus Salad recipe.
Right now is the height of asparagus and green pea harvesting. I printed out a cheat sheet to keep in my kitchen as a reminder to eat seasonally. By adopting a more locally sourced diet I'm able to honor my environment, protect resources and support small, local farmers producing top-quality food.
5 Reasons to Buy Local and Organic
Check out this interactive Seasonal Food Guide created by Sustainable Table. You can sort growing and harvest seasons by state and there are even recipe ideas for each food.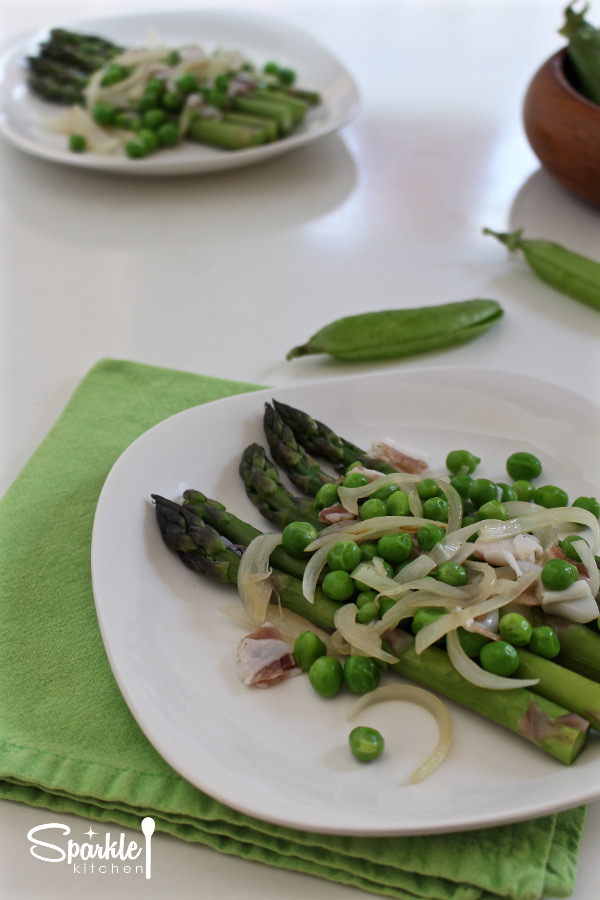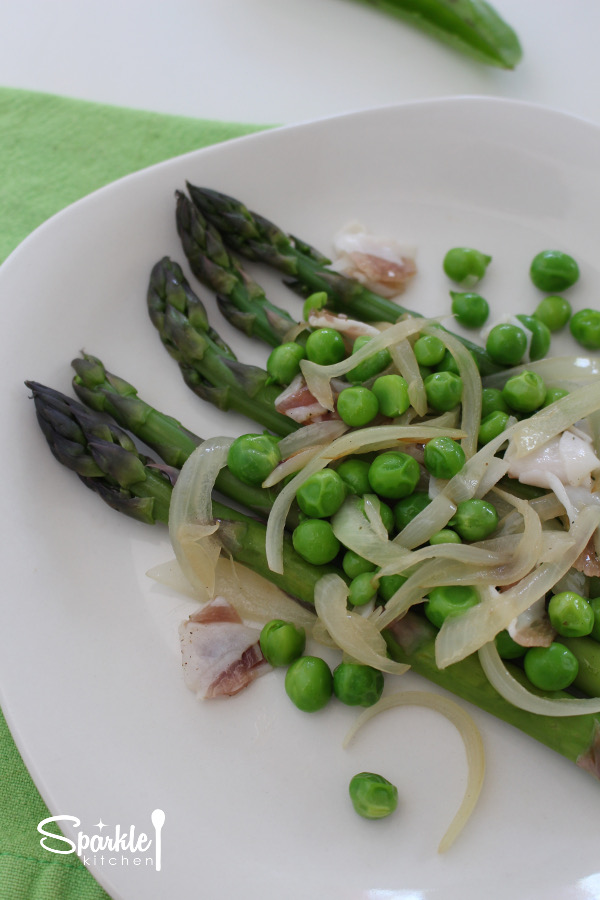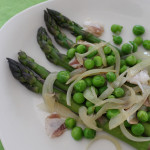 Spring Pea and Asparagus Salad
2015-05-07 17:07:24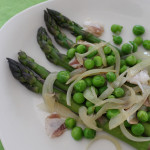 Serves 4
A seasonal salad of green peas, asparagus, onion and pancetta.
Ingredients
2 cups green peas
30 stalks asparagus or 2 bunches
1 tbsp good quality extra virgin olive oil
1 medium onion - sliced
½ tsp salt
1 cup pancetta - chopped
Instructions
Fill a large pot with 1 inch of water and bring to a simmer. Pour in the raw peas and steam for 2 minutes. Remove from heat, strain through a colander and set aside.
Break the tough ends off the asparagus and compost them. Then using the same large pot, fill again with 1 inch water, bring to a simmer and steam the asparagus for 3 minutes. Use tongs to remove the asparagus to a plate. Set aside.
Sprinkle the sliced onion with salt and sauté in olive oil over medium heat for 3-5 minutes. Make sure the onions cook until translucent, not browned.
In a large bowl, toss together the peas, onion and pancetta. Top the asparagus with this mixture. You can drizzle more olive oil if you like too.
Sparkle Kitchen https://sparklekitchen.com/