Grocery shopping is a communal experience at my local food coop. The place is notorious for lines that wrap around the store, mad rushes to get the last heirloom tomato and also new friendships.
Recently as I'm perusing the apple selection, an elderly women asks for my assistance. "Would you help this old shorty and reach that bag for me?" Of course.
I grab what she needs and then she says, "Enjoy your youth. I used to look like Vivian Lee but now I'm just gone with the wind."
Ha! What a character. I have to befriend this women. We chat for a few moments and I admire her storytelling skills, colorful word choice and newly permed hair. She imparts wisdom on me right there in the grocery store.
And then she's off towards the cheese section and I'm back to apples.
This applesauce is blended with fresh cranberries and ginger for a nutritional boost. I like combining apples with other fruits and vegetables to lower the sugar content. One Pink Lady apple has about 14 grams compared to just two grams in a half cup of cranberries.
I'm doing my best to break-up with sugar and this recipe is a good alternative to any added sugar dessert I would otherwise eat. To reduce the sugar affects even more, add some fat to it like coconut whipped cream. The fat slows the sugar's metabolism.
Enjoy!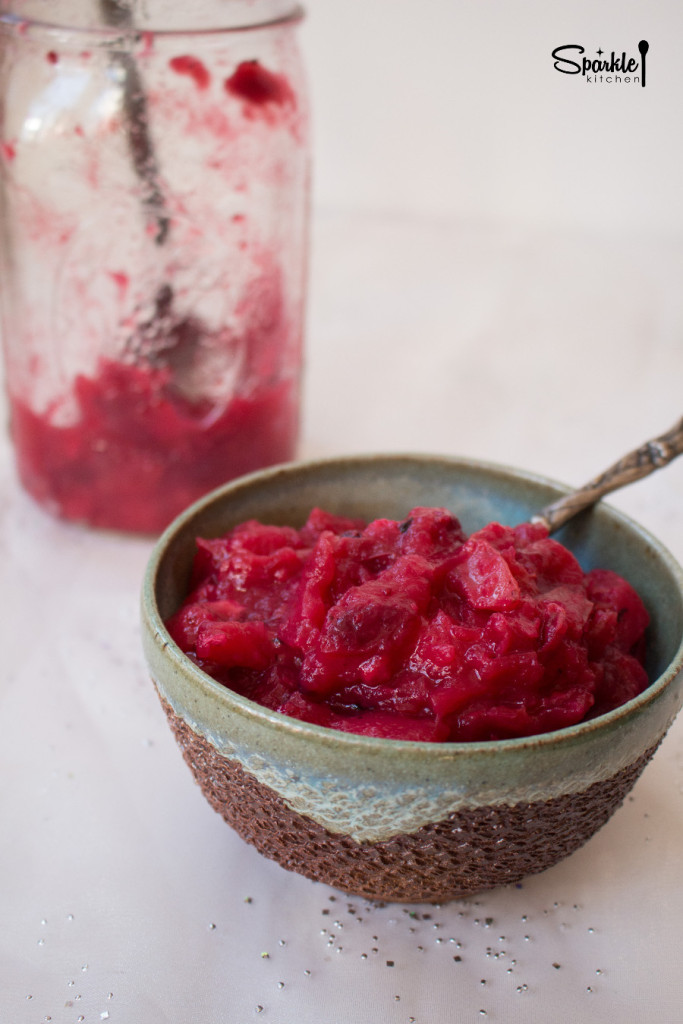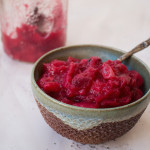 Cranberry Applesauce with Fresh Ginger
2016-01-07 20:41:17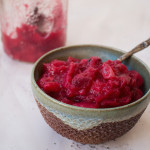 Serves 4
Homemade applesauce blended with fresh cranberries and ginger for a nutritional boost.
Ingredients
8 oz fresh cranberries
2 ½ cups pink lady apples - chopped
¾ cup water
1 cinnamon stick
½ tbsp fresh ginger - grated
Instructions
Place all ingredients in a medium-sized pot. Heat over medium-high heat uncovered for 10 minutes.
The cranberries will pop as it cooks. Once all have popped, turn off the heat and remove the cinnamon stick.
Use a potato masher to mash the apples and cranberries together.
Store refrigerated in a glass jar for up to 1 week.
Sparkle Kitchen https://sparklekitchen.com/