October is really an abundant time for seasonal food in the Northeast. Tomatoes and peaches are still hanging on in the beginning of the month and all the fall food is fully ripened too.
I walked through the market looking for inspiration. First the winter squash caught my eye. Acorn, butternut, spaghetti and then kabocha, that was a new one. I did a quick Google search and leaned it is super tough to cut into so I passed. Maybe next time.
The acorn squash looked friendly and some sort of stuffed squash sounded tasty. Then I saw the lamb and immediately thought Moroccan spices. Yes, that was it!
Here's what I ended up buying:
3 acorn squash $03.25 ($1 per lb)
2 lbs ground lamb $28.00 ($14 per lb)
1 bunch chard $05.00 ($5 per bag)
1 large onion $02.45 ($3 per lb)
2 hot peppers $00.29 ($3 per lb)
2 bulbs garlic $00.10 ($10 per lb)
12 ounces honey $10.00 ($10 for 12 oz)
TOTAL $58.99 (to serve 6 people)

If the lamb filling gets a bit dry, add some broth. This will keep the squash moist and creamy too.
Enjoy!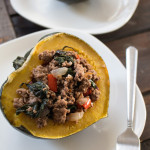 Moroccan-Style Stuffed Acorn Squash
2015-10-26 10:01:15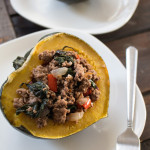 Serves 6
Ground lamb with Moroccan spices, hot peppers and onions stuffed into a roasted acorn squash.
Ingredients
3 medium acorn squash
1 tbsp lard
1 cup onion - chopped
2 lbs ground lamb (or ground beef)
1 medium poblano pepper - seeded and chopped
1 small serano pepper - seeded and chopped
3 tbsp garlic - minced
3 cups chard - stems removed and roughly chopped
1 tsp honey
optional topping - roasted walnuts
SPICES
1 tsp ground coriander
1 tsp ground cumin
1 tsp sweet paprika
1 tsp salt
¼ tsp cinnamon
¼ tsp cloves
¼ tsp caraway seeds
¼ tsp black pepper
Instructions
Preheat oven to 375 F.
Slice squash in half vertically. Use a spoon to scrap out the seeds and stringy bits and compost them. Place the squash face down on a high-rimmed baking pan and add ½ inch of water to the pan. Roast for 45 minutes until very tender. Test it by poking a fork into each half.
While the squash roasts, make the filling. Combine all spices into a small bowl and set aside.
Melt 1 tbsp lard in a large skillet over medium-high heat and sauté the onions for 3 minutes. Then add the peppers, sautéing for 2 more minutes. Add in the lamb, swiss chard, garlic, all dry spices and honey. Stir together to combine, making sure the spices are well incorporated. Cook for 5 minutes until lamb is thoroughly browned.
Scoop the filling into each squash half until just over-filled and serve.
Notes
Top with toasted walnuts for a bit of crunch.
Sparkle Kitchen https://sparklekitchen.com/